HAMILTON'S PRINTING
AND SIGNAGE EXPERTS
Cedar Prints specializes in wide format printing, such as interiors, exteriors, floor graphics, wall graphics and more.
We offer printing for businesses of all sizes in Hamilton and surrounding areas, including: Ancaster, Dundas, Stoney Creek, Burlington, Brantford, Flamborough and the Golden Horseshoe.
OUR COVID – 19 PROCEDURES
During this time we are taking extra precautions to ensure your orders are manufactured and ready for pickup under the most sanitary means possible. We encourage you to contact us with any additional questions or concerns you may have.
As businesses expand their COVID-19 safety precautions, come see us for all of your signage needs. Floor graphics to indicate social distancing rules are a must-have for many businesses right now. Signage indicating curbside pickup is also essential for letting your customers know that you are not only still operating under these circumstances, but also doing so safely.
Whether you're a new start-up, or an established business looking to restructure, rebrand, or just update your signage, we have exactly what you need. What's listed below is an example of some of our most popular offerings.
Arguably the most memorable and important part of your building's exterior — your sign! You want something attention-grabbing that'll stay in the minds of anyone in the neighbourhood. An eye-catching sign is part of what convinces someone to check out your business, so it's important to ensure that what you have looks great.
WINDOW GRAPHICS AND FILMS
Catch the eyes of those passing by your storefront with window graphics! Storefront windows are the best place to display promotions, store hours, large logos, or any other graphic of your choice! There are plenty of different types of window graphics to choose from. Check out our offerings to find out what's right for you.
Wall graphics, posters, menu boards, and so much more. Possibilities for indoor signage are endless when you work with us. Good signage shouldn't end with the exterior of your building. Ensure your brand is everywhere on the inside as well. Interior signage will help you customize the inside of your business, giving it a unique look.
Modernize your business with a digital sign. Digital signage is one of the best ways to get the attention of anyone passing by your business. You can display static, animations, videos, multiple pieces of content, and so much more. Rotating through displays has never been easier. An electronic sign will help you stand out greatly from other neighbouring businesses. Customize it any way you want, and change things up any time you want.
Cars, vans, buses, trailers, and trucks are perfect for mobile advertising. We carefully install high quality, eye-catching graphics on your vehicle so you can highlight your business all over town. We do full and partial vehicle wraps, as well as window perforations. Let your brand be seen far and wide!
There's also more than just those popular products! Contact us directly for more information on what we can do for you.
Have questions about our services? Unsure which services would be right for your business at this time? Feel free to contact us. We're happy to help and would love to walk you through our process. It is important to us that we take time with each client to carefully outline the right course of action for their business. We would love to have a chat with you.
Cedar Prints has been involved in the print industry for over 18 years. We have worked with hundreds of businesses in Hamilton and the surrounding area. Our years of experience have earned us the trust of our clients, resulting in many repeat customers.
The roots of Cedar Prints grew from many years in the sales of printing equipment and supplies. With this experience, we are able to bring in-depth knowledge and expertise in every step of the process.
Our professional team will guide you through the conceptual design stage, followed by the production and installation of your project.
Today the industry is rapidly changing, therefore we continue to invest in the latest generation of technology to provide our clients with high quality and cost-effective services.
We use only the finest materials in order to create the highest quality products for you and your business. Our services are performed in-house. From the moment we confirm your quote, to the absolute final stage, we make sure that you end up with a high quality product from us.
If you operate or are planning to start a business, an important consideration is how you decide to use signage. A sign can help plant the seed for future sales and begin creating brand recognition. Let us help you through the process of creating the most eye-catching signs possible.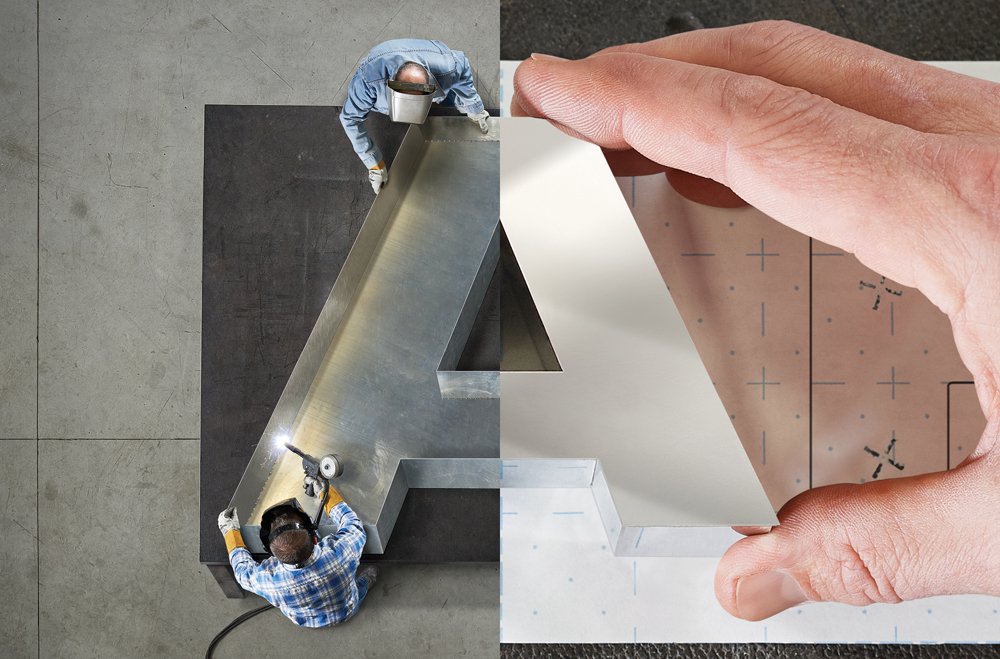 Are you looking to customize a product or space? Digital printing allows you to create unique ways to personalize almost anything. Ask about printed decor, garment printing, or wrap skins.
After signage, banners and glass decor are also two of our most popular services. The interior of your business is just as important as the exterior, and we can help breathe some new life into your space with our decor.
No matter what you're looking for, we're here to help bring your vision to life.
A good looking, high quality sign is an integral part of your business. Your brand is important, and catching the attention of customers is easy when you have a great design. We want to help you stand out with an eye-catching sign.
We also take care of your sign's installation. There's no point in buying a high quality sign only to end up with a poor install job. We take extra care to ensure your sign is properly installed, plus give you maintenance tips after the fact!
If you're a new business, signage is extremely important. You want your brand to catch as many eyes as possible. We can help you get started. Whether you have your own design or require assistance, we'll walk you through it.
Here's what some of our customers have to say
Extremely happy with the finished products, which have been a few now. Absolutely amazing, fast and professional service. They go above and beyond your expectations. Highly recommend Cedar Prints
Shelley – Goertz Advantage Accounting
I've been using Cedar Prints for all my real estate signage and printing needs for years. Fantastic to work with, great advice and design to make the product stand out with prompt turnaround time. Highly recommended for any signage and printing jobs
Arek – Royal LePage Team Realty
We are a relatively new sandwich shop in the east end of Hamilton. We used Cedar Prints to do most if not all our signage, layout and graphic design. They were an absolute pleasure to work with. Excellent communicators and quick to respond to inquiries and adjustments. We've had many compliments regarding their signage. We will continue to use them as long as we're serving food!
Michael – Tall Tree Sandwich